Joining of Cf/SiC composites with the as-synthesized Y3Si2C2 interlayer via electric field-assisted technology
TATARKO Peter (In Journal of Advanced Ceramics)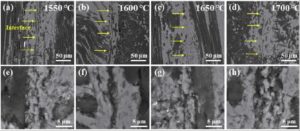 Fig. Low- and high-magnification back-scattered SEM images of the samples joined at different temperatures: (a, e) 1550°C, (b, f) 1600°C, (c, g) 1650°C, (d, h) 1700°C.
Eco-friendly electrochemical surface treatment of Ti and Ti-based biomedical alloys
KITYK Anna**, HNATKO Miroslav, PAVLÍK Viliam (In Surface & Coatings Technology, 2 x European patent application)
Fig. SEM images of untreated (a) and electrochemically textured in DES Ti – alloy surfaces
(b – micro textured and c – nano textured at t=25 oC), d – sample fully covered with human pulmonary fibroblast cells, which illustrates excellent bio-compatibility of treated by proposed method surfaces.
Porous bioactive glass microspheres prepared by flame synthesis process
Figure 1: Morphology of the as prepared porous 45S5 BG micro-sphere particles.
Four-component relativistic time-dependent density-functional theory using a stable noncollinear DFT ansatz applicable to both closed- and open-shell systems.

read more →
Bioactive silicon nitride by surface thermal treatment
Fig. 1. Microstructures of the prepared Si3N4-based substrates with SiO2 (A), SiO2 and CaO (B), and Ca3(PO4)2 (C) as sintering additives.
| | | |
| --- | --- | --- |
| Fig. 2. Structures of substrate surfaces after oxy-acetylene flame treatment for 60 s (T = 1475°C ± 25°C; O2:C2H2 ratio 1:1.1). | Fig. 3. Cross-sections of the substrates after flame treatment. | Fig. 3. Growth of the MRC5 cells on Si3N4-based substrates (SNSi, SNSiCa and SNCaP) for a period of one week and analyzed by polarization microscope. |
Micro scale fracture strength of grains and grain boundaries in polycrystalline La-doped ß-Si3N4 ceramics 

| | | |
| --- | --- | --- |
| Fig 1: Schematic of a microcantilever with the corresponding geometrical parameters, indicating the location of fracture (x1) and loading point (x2) and the real cantilever cut from the sample | Fig. 2 Fracture strength of cantilevers with different La2O3 content | Fig. 3 Fracture strength of cantilevers with different La2O3 content, experimental and calculated data |
Wire electrical discharge machinable SiC with GNPs and GO as the electrically conducting filler 
Fig. 1: Electrical conductivity and thermal diffusivity of SiC-GNP and SiC-GO composites measured in direction parallel and perpendicular to graphene layers.
A precursor approach for the development of lace-like Fe2O3 nanocrystallites triggered by pressure dependent nucleation and growth of akaganeite over clay based composites for toluene combustion.  

read more →